Amplicon – innovations with a good start into business
Amplicon is a company operating in the biotechnological sector, founded in 2014. Its core business is the analysis of genetic information with regard to its application in medicine, veterinary medicine and to monitor the quality of food and pharmaceutical products. Main area of its activity is developing diagnostic tests and research methods using DNA sequences. Since the beginning of its operations, it has been linked to Wrocław Technology Park.

Interest in science as an idea for business
The idea to establish Amplicon stemmed directly from the interests of the President of the company's Management Board, Janusz Piechota, Ph.D.
As a doctoral student at the University of Warsaw, he was a member of the team that, among others, determined molecular basis for genetic diseases, and worked on creating first diagnostic tests for genetic diseases.
– A dozen years back, we were pioneers in this field of study in Poland.
I was immensely interested in the subject and, at further stages of my career, I always wanted to return to molecular diagnostics. – says Janusz Piechota.
He continued his work at the University of Wrocław, where he met his current professional partner, Małgorzata Piskozub. They joined forces and, as soon as it was possible, they decided to start a business to pursue their scientific interests they were unable to pursue at the university. This is how Amplicon was born.
A good start at the Lower Silesian Academic Incubator of Entrepreneurship (DAIP)
Amplicon started its operations at the Lower Silesian Academic Incubator of Entrepreneurship (DAIP), being part of Wrocław Technology Park (WTP).
– When we started the company, our initial capital was rather low. DAIP was therefore a perfect place for us. What was also of great importance to us was that from the very beginning we were allowed to use the well-equipped WTP laboratories to develop diagnostic tests, carry out validations of methods etc. – adds the President of Amplicon.
From the very start, the founders of the company focused on filing a niche on the Polish market of molecular diagnostic tests.
There weren't any Polish producers, only distributors representing foreign companies, which caused high prices.
Thus, Amplicon had competitive advantage achieved due to domestic production and direct sales.
– Our activity started from a desk I shared with my partner in DAIP's open space, and a laboratory table we used.
We have been growing dynamically for the last 5 years. When we were starting the business, we developed a few tests that allowed us to market our first services (e.g. tick tests or water tests) and training courses based on our own diagnostic sets. As our revenues grew, we invested more in the expansion of the company and in broadening its offer. We gradually took successive steps business-wise – we leased an independent office and, later, our own laboratory rooms. – says Piechota.
Amplicon, whose incubation period at DAIP has already come to an end, is currently a company with its own, independent office and laboratory facilities leased in Wrocław Technological Park. Its portfolio includes nearly 100 diagnostic tests, and it is about to register its own medical laboratory offering the company's own diagnostic tests.
The company's owners consider the possibilities available at DAIP as a significant factor that allowed them to start the company and that ensured its success.
– We focused on the company's growth, taking advantage of exceptionally favourable conditions in WTP. On the one hand, we were allowed to use office and laboratory space we needed at a particular moment, and on the other, we received enormous support in business terms. It included both practical know-how, and specific advice in the area of law or accounting. – says Piechota.
The president of Amplicon also emphasizes the significance of de minimis aid obtained with the help of WTP, which contributed to the company's dynamic growth.
– DAIP gave us a chance for scalable development and allowed us to transform from a startup into a young, aspiring and fully. – he adds.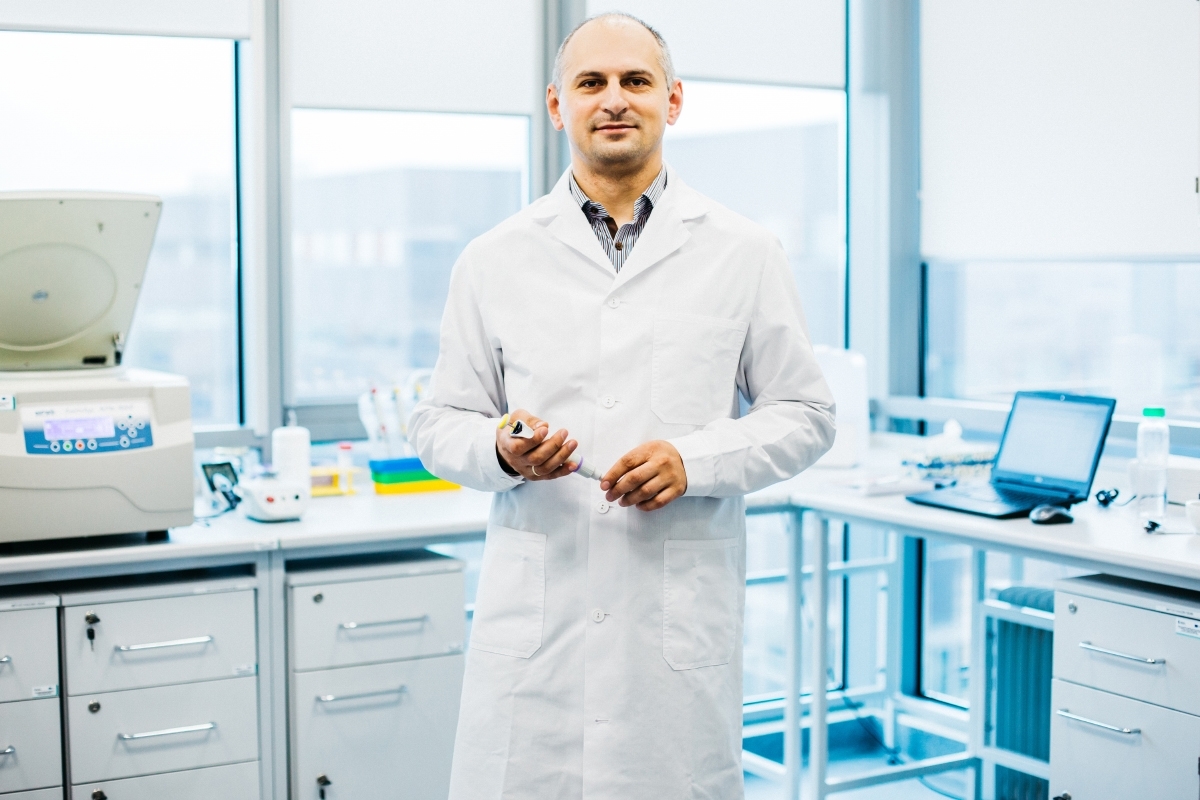 Scale of growth
For 5 years of its activity, Amplicon invested not only in production and development of diagnostic tests, but also in its own specialist equipment. It should be noted that a considerable part of the company's tests was developed as part of an innovative service called "test on request". If a specific test is not available in the market, or if the tests that are available do not meet customer's requirements, a customer may ask Amplicon to try to develop the test. If the company fails, the customer is not charged with any fees. If it succeeds, the customer obtains the requested solution, which Amplicon adds to its regular offer.
Today, apart from executing orders for new tests, the company wants to focus on improving production quality. At the present moment, although its works are performed according to highest standards, Amplicon is in the course of implementing control systems into its production procedures.
The first one will be ISO 13485 on medical devices.
– We also want our tests to be IVD-certified. The certificate would ensure our full participation in the medical market, because today we are selling them under a RUO license (Research Use Only), which limits their applicability. Winning trust in the medical market will also broaden the group of our potential customers. Five years ago, we focused chiefly on being active in the veterinary market, which was characterised by fewer initial limitations. Today we know that our own laboratory space allows us to take a step forward and enter the medical market
– concludes the company's President.
Role of a tick
Amplicon is best known for its studies of ticks.
– We undertook studies of ticks at the very beginning of our activity, as a curiosity. The curiosity, however turned into a product which received immense market recognition. – says Janusz Piechota.
One of Amplicon's flagship products is a tick-borne disease panel, which in a single reaction is able to test a sample for the presence of three different pathogens, which speeds up and simplifies the diagnostics of tick-borne diseases. It will be one of the first products for which the company wants to obtain the IVD certification, so it can be used to diagnose tick-borne diseases in humans.
Experience from implementing and selling tests related to ticks allowed the company to obtain valuable know-how concerning the sale and presentation of products. The know-how has enabled the company to offer services related to medical diagnostics, which is its priority objective.
Broadening the horizons
The company operates mainly in the Polish market, directing its offer to both B2C and B2B customers. It has also been receiving enquiries and orders from foreign markets, such as Germany or France, although customers from the United States are also interested. The main obstacle that prevents the company's products to enter the American market is the distance, which makes the price for transporting diagnostic sets very high, particularly as they must be transported in special conditions, with the use of dry ice. The cost of transport is frequently higher than the cost of the product itself. Amplicon is planning to open its branch in the USA and is working on a solution that would allow shipping tests in room temperature.
Excellent venue for business
Amplicon is one of the companies that took full advantage of the space and support from Wrocław Technology Park, which vastly contributed to the company's dynamic growth. WTP met its needs, and the offer used by the company was always adapted to the current scale of its operations.
– The atmosphere of mutual cooperation and assistance of the team of incubators led by Małgorzata Dynowska and the team of laboratories led by Agnieszka Kowalska is truly invaluable. During our presence at DAIP, they were always there to help us. All of this brought a spectacular effect. Today, Amplicon is a dynamically-growing company that keeps setting itself new, more ambitious goals.
Everyone who is not sure if it's a good idea to start a company, especially in an incubator of entrepreneurship, should definitely do it!
If you have a good idea and are determined to give shape to it, try your luck. Institutions such as WTP will be a good starting point for your business. – concludes Janusz Piechota.