FOR BUSINESS OF ANY SCALE
Wrocław Technology Park is a place where companies operating on every scale can grow. It is a venue for startups, SMEs and large international companies. It is possible owing to our comprehensive offer that we perceive as a constellation, a system of elements allowing entrepreneurs to choose the best solution that will lead them to market success. Opportunities resulting from our offer are concentrated in our business development programme, Stellar Hub.
"We treat our offer as a constellation of business products and services. By choosing them, companies cooperating with us can use support they need at a given moment of their development. Thanks to that, they can count on market success."

Maciej Potocki, CEO, President of the Board in Wroclaw Technology Park
What does Stellar Hub mean?
The name of our programme is not accidental. Apart from its meaning referring to stars, "stellar" is also a synonym of outstanding quality. Stellar Hub is therefore a collection of first-class elements. These elements are, on the one hand, individual areas of our offer and, on the other, our partnering companies. WPT is where the stars of business are born. We would like to contribute to the birth of even more of them by continuing to pursue our approach to supporting entrepreneurs.
WPT is an institution where companies from different market sectors have a possibility to grow. At specific stages of their development, they may use the support they need. The support can take the form of adapted office space or using one of our laboratories and prototype workshops.
Cooperation with us can, however, be extended. For example, a company starting its operations in the incubator of entrepreneurship may at the same time, or after several years of its activity, start using our laboratories, R&D services or support in terms of obtaining subsidies. After the incubation period, it may continue its operations at WPT, through leasing office or laboratory space, to establish its own workshop.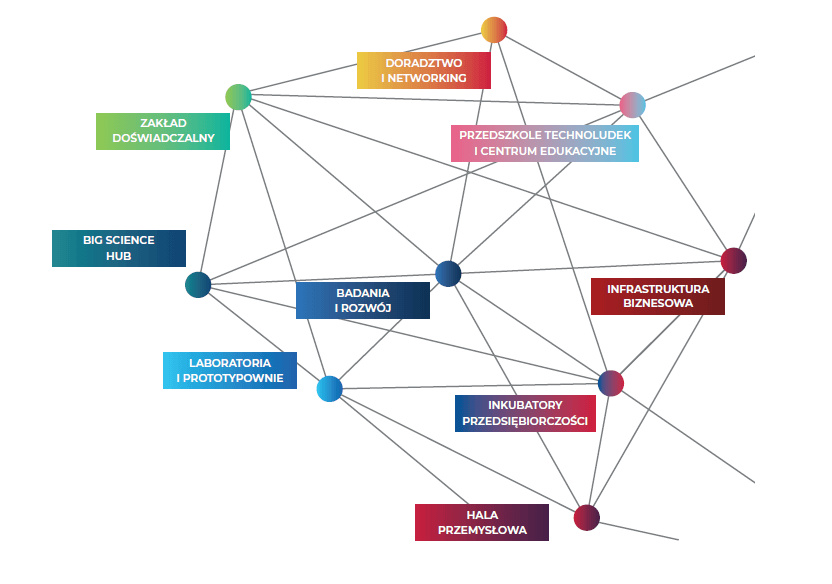 These are not the only options. Our offer is like dots that companies can connect to create their own, unique constellation of products and business services. Its scope depends on company's current needs and long-term goals. We just help to set and achieve them.
Stellar Hub is a set of elements companies need to combine to achieve market success. As the elements are concentrated in one place, entrepreneurs may focus on what is most important to them – on designing the future of their business.